Opti-Flex QC2000 Series Vision System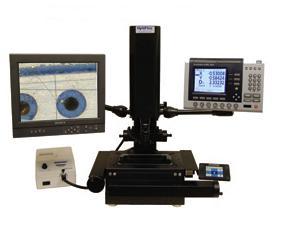 Optiflex QCZ-2000 "Granite Z" Inspection/Measurement Systems
Flexbar presents OptiFlex QCZ-2000 "Granite Z" Series Measurement and Inspection Systems. Offering exceptional value for the money, these systems offer highly flexible and upgradeable capability. The QCZ-2000 Series are compact and easy to use turnkey systems packed with powerful features including state-of-the-art color video, quality zoom optics and the Heidenhain ND-1200 Series Geometric Measurement DRO now featuring Geometric Tolerancing! All Systems Available in 8" x 4" (200mm x 100mm) and 12" x 12" (300mm x 300mm) Formats.
Power: Our most popular Digital Readout based measurement and inspection system. We combined precision hardware with the most powerful digital readout available to give you highly accurate measurements at the touch of a button!
Performance: With OptiFlex "Granite Z" you'll get a durable granite Z-column and base, with a precision machined 4" X 8" or 12" x 12" crossed roller bearing stage. We supply macro magnification of 10x to 120x with a field of view of up to 2 + inches! Our superb color optics combined with high resolution Sony Monitor provide an image that is amazing!
SYSTEM FEATURES:

Solid granite frame and column guarantees strength, accuracy and stability
Superb full-color high resolution image with zoom optics
Precision 4" x 8" or 12" x 12" crossed roller bearing stages are available
High quality macro-zoom lens or micro-zoom lens both with fine focus
High resolution S-video color CCD camera
Sony Trinitron high resolution 14" monitor
Adjustable fiber optic top lighting (bottom lighting optional)
S-Video digital crosshair generator, moveable x-y crosshairs
Z-Axis measurement available
Adjustable lens mount dovetail on Granite Z column
Tooling holes on stage plate for fixturing
LED lighting available
Easily upgraded to software-based configurations
Easily upgraded from manual to motorized or CNC configu- rations
The Heidenhain ND-1200 Series geometric DRO
Bright and crisp LCD with adjustable tilt
Small footprint with ergonomic design
Allows operators to accomplish simple to complex measurements quickly and easily
Print measurement results using serial or parallel printer
Part programming allows creation, editing, and running of programs in measurement sequence
Measure guide leads operators through each feature's measurement sequence to assure consistent data
Measure a part once and operators can repeat the same steps indefinitely
Measures circles, angles, points and lines
Feature construction capabilities