Flexbar Ultra-Flex 5000 Series Vision System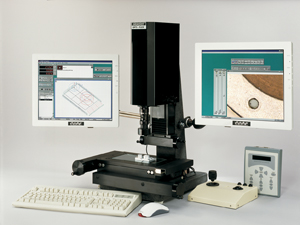 UltraFlex 5000 Series "Granite Z" Video Inspection & Measurement Systems
Flexbar introduces UltraFlex, its newest and most powerful software-based series of video measurement and inspection systems. UltraFlex systems combine high accuracy measurements, repeatable edge detection, video documentation and electronic communications into a powerful inspection tool. System packages available in manual, motorized and CNC controlled formats. All systems available in 8" x 4" (200mm x 100mm) and 12" x 12" (300mm x 300mm) formats.
The Ultimate Inspection Tool - The UltraFlex has been designed for the shop floor or any inspection lab requiring quick and easy operation. By using our On-Screen Measurement Tools, Repeatable Video Edge Detection, and Live Image Overlay operators of any skill level will measure and inspect parts quickly, accurately, and efficiently.
SYSTEM FEATURES:
Solid granite frame guarantees strength, accuracy and stability
Superb full-color high resolution image with zoom optics
Precision 4 x 8 crossed roller bearing stage (larger size available in 12 x 12 format)
Systems supplied with either 2 micron or 1 micron high accuracy scales
Motorized and CNC control of X, Y, and Z axes
Standard magnification 42x-276x with option affordable auxiliary lenses to increase or decrease magnification
Programmable lighting included
Z-axis measurement with auto-focus available on 5300
Adjustable lens mount dovetail on granite Z column
Tooling holes on stage plate for fixturing
LED lighting available
Powerful Pentium computer running Windows.
Easily upgraded from manual to motorized/CNC control

SOFTWARE FEATURES:
Easy-to-use icon driven Quadra-Chek 5000 software
Repeatable Video Edge Detection tools which remove operator uncertainty with sub-pixel accuracy
Powerful feature recall, construction, and skew features
Combine on-screen measurements with stage-based measurements
Manual part programming
Tolerancing with pass/fail results
Automatic data collection with customized report generation
Real-time link to SPC
Image capture and annotation
E-mail and video print for documentation
Live image overlay comparison with CAD import/export
No hidden costs for report generation capability
Software upgrades available periodically
Quadra-Chek products are the industry standard worldwide