Surfcom 1400D

Superior Operating Ease & Automation of Measurements to Inspection Reports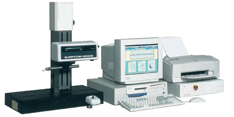 AI Function Simplifies Measurements (patented)
The unit automatically selects the measuring conditions without setting them in advance (roughness measurement). In addition, a lesson mode is available to teach the user the operation procedures. This is a reflection of our commitment to create measuring instruments that anyone can use.

Automation Enhances Measurement Efficiency
The teaching function can be used to automate a series of operations, from measurement at multiple locations to generation of an inspection report by pasting the data.

Evaluation Functions Dramatically Strengthened
A variety of customer requests for more evaluation functions have been reflected in the 1400D. These include accommodation of standards for film thickness measurement (step/area), wear volume calculation (superimposed profile area) and LCD glass substrate (special waviness).

TIMS Flexible Measuring System
The TIMS next-generation integrated measuring system is a new breakthrough from TSK. It links different programs with a single icon, enhancing the ease of analysis.

Complies with World Standards
The 1400D complies with the latest ISO, JIS, DIN, ASME, CNOMO and other standards, and has satisfied the European Directives for the CE Marking. It can be used with English, Japanese, German, French and Italian (please consult with us when taking it to a different country).

Reanalysis After One Measurement
Data can be reanalyzed after one measurement is performed. The measurement standard (linear, first half, latter half, round surface, both end) can be changed to set the measuring range for analysis, or the defective data for a notch can be removed.

Outstanding Expandability
The unit can be easily and efficiently upgraded to meet evolving needs. This includes upgrading from two-dimensional to three-dimensional roughness, or adding profile capability.

Measurement
Easy operation with icons and pull-down menus. Icons can be edited according to individual preferences.
Real-time display of data.
Unit can be controlled using manual mode, joystick or mouse.

Analysis
Desired measuring standard and evaluation range can be set.
Evaluation according to different standards can be performed by simply recalculating the data.
Superimposition Function. Differences before and after machining can be determined by superimposing data on the screen and calculating the different area figures for both sets of data. Up to 10 data items on the screen can be stored, and evaluation can be performed by superimposing the data sets.

Printing
The measured results can be formatted according to individual requirements and printed as an inspection report.